Three-axis Vibration Test System
Three-axis Vibration Test System
The three-axis vibration test system is able to stimulate the vibration environment in practical use processes realistically.
It improves the over-test and short-test of complex test pieces, which allows the comparability of laboratory evaluation results and the actual service environment of our product to be enhanced.
This tri-axis vibration tester can reproduce the fault mode occurred outfield but hardly recurrent in the single axial test. It helps simulate the vibration environment in the entire process during use.
Additionally, the three-axis vibration test system can immensely shorten test time.
Characteristics
As a kind of vibration analysis equipment, this product has realized three-axis respective or simultaneous vibration.
Available functions include sine, random, shock, and special waveform.
Three-dimensional synchronous or asynchronous vibration can be achieved.
The use of high-precision guiding device ensures sufficient stiffness and extremely low coupling.
The three-axis vibration test system is convenient to be used and maintained.
Standard Configurations
Electro-dynamic Type:
① Electro-dynamic Vibration Shaker
② Intelligent Power Amplifier
③ Controller
Hydraulic Type:
① Hydraulic Vibration Shaker
② Hydraulic Pump
③ Controller
Specially designed accessories:
① External Interlocks
② Orthogonal Decoupling Bearing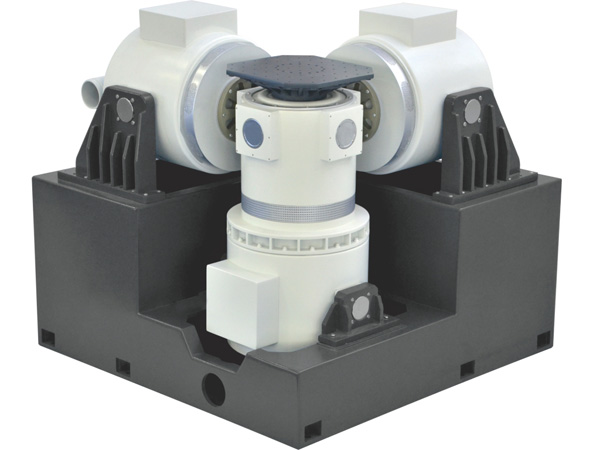 Main Specifications
Model
Max. Frequency (Hz)
Max. Force of Single Axis (kgf)
Bare Table
Table Size (mm)
Cooling Type
Sine
Random
Sine
Random
Velocity (m/s)
Displacement (mm)
3ES-10-HF-400
1000
2000
1000
1000
1.6
38
400
Air-cooled
3ES-20-HF-400
1000
2000
2000
2000
1.6
38
400
3ES-10-HF-500
800
1500
1000
1000
1.6
38
500
3ES-20-HF-500
800
1500
2000
2000
1.6
38
500
3ES-30-HF-500
800
1500
3000
3000
1.6
45
500
3ES-10-HF-600
800
1500
1000
1000
1.6
38
600
3ES-20-HF-600
800
1500
2000
2000
1.6
38
600
3ES-30-HF-600
800
1500
3000
3000
1.6
45
600
3ES-40-HF-600
800
1500
4000
4000
1.6
45
600
3ES-50-HF-600
800
1500
5000
5000
1.6
45
600
3ES-60-HF-600
800
1500
6000
6000
1.6
45
600
3ES-70-HF-600
800
1500
7000
7000
1.6
45
600
3ES-10-HF-800
500
1000
1000
1000
1.6
38
800
3ES-20-HF-800
500
1000
2000
2000
1.6
38
800
3ES-30-HF-800
500
1000
3000
3000
1.6
45
800
3ES-40-HF-800
500
1000
4000
4000
1.6
45
800
3ES-50-HF-800
500
1000
5000
5000
1.6
45
800
3ES-60-HF-800
500
1000
6000
6000
1.6
45
800
3ES-70-HF-800
500
1000
7000
7000
1.6
45
800
3ES-10-HF-1000
400
1000
1000
1000
1.6
38
1000
3ES-20-HF-1000
400
1000
2000
2000
1.6
38
1000
3ES-30-HF-1000
400
1000
3000
3000
1.6
45
1000
3ES-40-HF-1000
400
1000
4000
4000
1.6
45
1000
3ES-50-HF-1000
400
1000
5000
5000
1.6
45
1000
3ES-60-HF-1000
400
1000
6000
6000
1.6
45
1000
3ES-70-HF-1000
400
1000
7000
7000
1.6
45
1000
3ES-80-HF-600
800
1500
8000
8000
1.6
51
600
Water-cooled
3ES-100-HF-600
800
1500
10000
10000
1.6
51
600
3ES-120-HF-600
800
1500
12000
12000
1.6
51
600
3ES-80-HF-800
500
1000
8000
8000
1.6
51
800
3ES-100-HF-800
500
1000
10000
10000
1.6
51
800
3ES-120-HF-800
500
1000
12000
12000
1.6
51
800
3ES-160-HF-800
500
1000
16000
16000
1.6
51
800
3ES-80-HF-1000
400
1000
8000
8000
1.6
51
1000
3ES-100-HF-1000
400
1000
10000
10000
1.6
51
1000
3ES-120-HF-1000
400
1000
12000
12000
1.6
51
1000
3ES-160-HF-1000
400
1000
16000
16000
1.6
51
1000