SY-10
Hydraulic Free Fall Shock Machine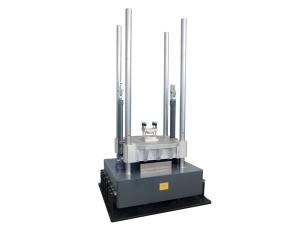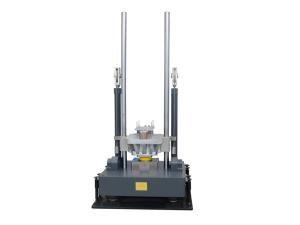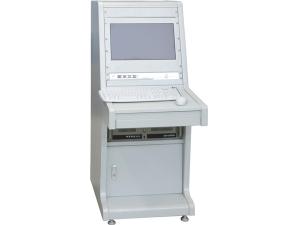 The SY-10 hydraulic free fall shock machine is ideal for simulating the shock suffered by different goods in a practical environment. It checks whether these goods have reliable functions and complete structures under shock.
As a shock tester, the hydraulic free fall shock machine can carry out a variety of impact tests such as the conventional half-sine wave, post-peak sawtooth wave, and the square wave, etc.
Functions and Characteristics
1. A combination of hydraulic balance lifting system and multi-rack guide column with large strength margin ensures stable lifting action and no noise.
2. The cast aluminum-magnesium alloy table is optimally designed, featuring high stiffness and small high-frequency clutter.
3. With large braking force, the built-in hydraulic braking mechanism can effectively avoid the secondary rebound.
4. The digital lifting height feedback control system guarantees the repeatability of the shock.
5. The hydraulic free fall shock machine is designed with a self-buffer base for greatly reducing the shock to the ground. Without a dedicated base, it is extremely convenient to be installed.
Main Specifications
Model
SY10-2
Mechanical
SY10-5
SY10-25
SY10-50 *
SY10-100 *
SY10-200 **
SY10-400 **
SY10-600 **
SY10-1000 **
SY10-1500
Related Load (kg)
2
5
25
50
100
200
400
600
1000
1500
Table Size (mm)
200x200
200x200
300x350
480x500
650x800
800x960
1000 X1000
1200 X1200
1000 X1000
1200 X1200
1000x1200
1200x1200
Shock Waveform
Half-sine
Half-sine
Post-peak sawtooth
Half-sine
Post-peak sawtooth
Half-sine
Post-peak sawtooth
Trapezoid
Half-sine
Post-peak sawtooth
Trapezoid
Half-sine
Post-peak sawtooth
Trapezoid
Half-sine
Post-peak sawtooth
Trapezoid
Half-sine
Post-peak sawtooth
Trapezoid
Half-sine
Post-peak sawtooth
Trapezoid
Half-sine
Post-peak sawtooth
Trapezoid
Shock Acceleration (m/s2)
200-15000
200-15000
150-1000
150-15000
150-1000
150-6000
150-1000
300-1000
150-6000
150-1000
300-1000
150-3500
150-1000
300-1000
150-1500
150-500
300-500
150-1500
150-500
300-500
150-1500
150-500
300-500
150-1500
150-500
300-500
Pulse Duration (ms)
11-0.8
18-0.5
18-6
30-0.8
18-6
30-1.5
18-6
12-6
30-1.5
18-6
12-6
30-2
18-6
12-6
30-6
18-6
12-6
30-6
18-6
12-6
30-6
18-6
12-6
30-6
18-6
12-6
Dimension (L×W×H: mm)
900 x 510 x 2100
900x725x 2200
900x725x 2200
1260 x 960x 2600
1370 x 1000 x 2600
1560 x 1210 x 2600
1600 x 1210 x 2600
1620 x 1350 x 2600
1750x1500 x 2800
1950x1750x 2800
Weight (kg)
500
550
850
2500
3100
3800
4200
5100
6000
7000
Size of Oil Source (mm)
 
350×300×690
630×450×710
700X530X780
Volume of Oil Source
 
60L
60L
45kg/100L
Power Supply
0.3kW
380V 5060Hz 1.5kW
380V 50/60Hz 1.5kW
380V 50/60Hz 2.2kW
Standard
GJB150 GJB360 GJB548 GB/T2423 JJG541 IEC60068-2-27
*Minimum Pulse Width
0.8ms
**Minimum Pulse Width
2ms